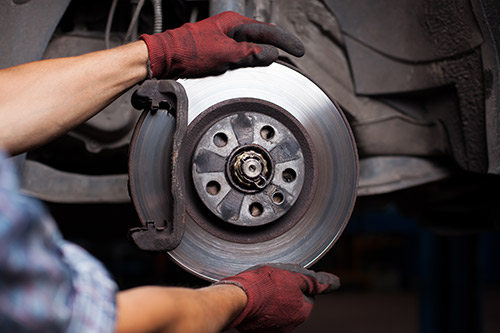 When the time comes for brake repairs, it's important not to waste any time. At John's Automotive Inc., we know how vital working brakes are to your everyday driving experience, which is why we put the utmost emphasis on providing our customers with the very best brake service in Jacksonville and Duval County, FL.
Our brake repair and replacement capabilities touch every part of this critical system, to ensure that when you step on the brake pedal, your vehicle responds in kind. Our full scope of services includes:
Replacements: Are your brakes squealing when you press the pedal? If so, it's a good indication that you're due for a brake replacement. We'll get those old pads off and install new brake pads in their place, to make sure your vehicle is equipped with the stopping power needed to keep you safe.
Repairs: If you've gone too long between brake replacements, there's a possibility other components may be damaged. We can repair and replace calipers, rotors and more, reversing any damage done and restoring the full functionality of your braking system.
Bleeds and flushes: If your brake pedal feels "mushy" or there's inconsistent compression when you step on it, a brake bleed or flush may be in order. Our team can remove air bubbles from the line to improve the reaction of your brakes and the feel of the pedal.
Brake fluid: A loss of brake fluid can mean a loss of braking power—especially if your brakes are less responsive as a result. Stop by our auto shop in Jacksonville, FL to have your brake fluid topped off or changed, to keep your system in full working order.
Your vehicle's brakes are nothing to mess around with and something that should never be neglected. If you're due for brake service of any type, schedule an appointment with John's Automotive Inc. today and drive away with peace of mind in your vehicle's brakes. Contact us today at 904-743-3857 for brake repair, engine repair, oil changes, and much more.